The biggest surprise in the NFL this week was the trade that sent Trent Richardson packing from the Cleveland Browns to the Indianapolis Colts.
The trade is definitely a win in the short term for the Colts, who pick up an extremely talented running back to plug into their already talented offense. Meanwhile, the Browns are hoping that the payoff comes down the road, as Cleveland will now have seven picks within the first four rounds of the 2014 draft, after adding Indianapolis' first-rounder in the deal for Richardson.
The question that remains is what the Browns will do in the meantime. As of late Friday morning, the official Cleveland Browns depth chart listed Bobby Rainey, a second-year undrafted free agent out of Western Kentucky, as the team's lone running back. However, NFL.com's Chris Wesseling is reporting that veteran Willis McGahee has signed with Cleveland and passed the subsequent physical.
So, what does that mean as a fantasy perspective?
Not much.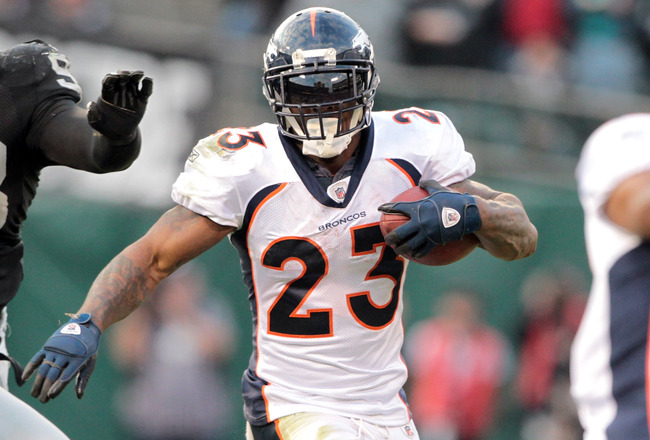 McGahee has been a serviceable back for the Denver Broncos over the past two seasons, totaling 1,930 yards on the ground at 4.64 yards per carry.
However, a compression fracture and MCL tear ended his 2012 season and are likely the reason that teams may have been hesitant to sign the 31-year old back. Sources such as CBS Sports' Jason LaCanfora suggest that McGahee is in great shape and ready to contribute.
The thing is, the Browns offense is really bad.
With Richardson's departure, quarterback Brandon Weeden is the team's leader in rushing yards, with seven. The Browns' 56 rushing yards per game through the first two weeks rank 29th in the league, while the offense as a whole managed just 275 yards per game and 16 total points.
Richardson is an extremely talented running back. McGahee has had a great career, but I don't think you'll find many people touting him as better than the guy the Browns just traded away. If Richardson struggled in this offense, expect McGahee to do so as well. And keep in mind that McGahee is not only coming off an injury, but has a history of injuries as well (and in case you were wondering, that is a link to that injury. Still gives me the shivers.)
From a fantasy football perspective, it might make sense to grab McGahee just in case he pans out or if you really are that desperate. But it's impossible to start him with any confidence in the near future.
Week 3 fantasy projection: 15 carries, 53 yards.