As the 50th anniversary of the assassination of John F. Kennedy approaches, it seems an appropriate time to look back on his favorite sports.
President Kennedy had a lot of interest in sports and he understood the value in physical conditioning as it relates to overall wellness for the body and the mind. He used his administration to put an emphasis on keeping physical fitness a big part of American lives, especially those of young people. Interestingly, he connected physical fitness to maintaining freedom and asked Americans to take more responsibility in staying healthy and fit. Kennedy hired legendary University of Oklahoma football coach Bud Wilkinson to head his fitness program.
Here is our look at JFK's favorite sports.
Swimming
Swimming was a big part of JFK's life. It was a sport he participated in competitively growing up through his high school years and even into college at Harvard. He loved being around the water and would often go for long swims in the ocean when on vacation.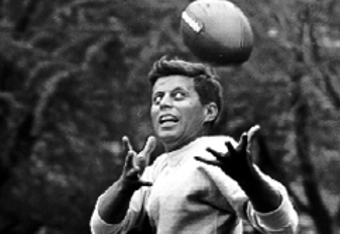 Football
Football was a big deal for the Kennedy family. JFK played it during his high school years, was a member of the junior varsity football team at Harvard and was often seen at family gatherings playing touch football. He enjoyed watching football and was scheduled to go to the Army-Navy football game a few weeks after his visit to Dallas in 1963. Navy had a great team that year, led by Roger Staubach, and Kennedy had served in the Navy.
Golf
Golf is a sport often associated with Kennedy. He was a heck of a golfer, maybe the best presidential golfer of all time, depending on who you ask. He also played golf during his freshman year at Harvard. He loved the sport, but because of his back problems he was limited in how much he could play. He once cancelled a tee time with Arnold Palmer due to his ailing back.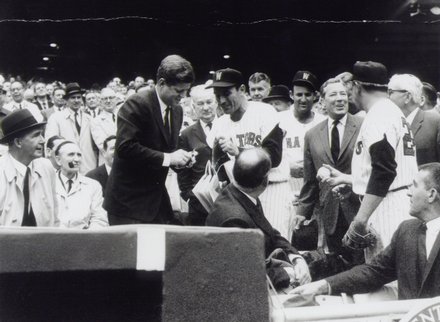 Baseball
The national pastime intrigued President Kennedy. He was an avid fan of his hometown team, the Boston Red Sox. But he had to become a fan of the Washington Senators as he threw out the ceremonial first pitch in each of the team's home openers from 1961 to 1963. He also attended the 1962 All-Star game, and really enjoyed the statistical element of the sport.
Sailing
The President's passion was sailing and he was happiest when doing it. He starting sailing as a child and later entered and won events. Later as President, JFK had his yachts installed with the latest in high-tech communication equipment, so that he could get work done while at sea. He attended and spoke at the 1962 America's Cup.
Howard Alperin is Managing Editor of AmericanizeSoccer.com