The Green Bay Packers have been without Aaron Rodgers for over 27 quarters of football so far this season, and it's been pretty evident that the offense misses him. His absence has lead to some discussion on the word "valuable" and what it means to the Packers, and it's also stirred debate as to where Rodgers fits in to the pantheon of the all-time great Green Bay players.
The Packers organization has had 27 players inducted into the NFL Hall of Fame, so narrowing down a list to just 10 is difficult, especially when you take into consideration active and recently retired players. Here's one attempt at putting over 90 years of history into a list of the franchise's top 10 players.
10. Donald Driver, WR, 1999-2012
A seventh-round pick out of Alcorn State in 1999, Driver worked his way not only up the depth chart but into the record books as well. He retired a year ago as the Packers' all-time leader in both receptions (743) and receiving yards (10,137). He was never an All-Pro player and will likely never make it into the Hall of Fame, but Driver was a model of consistency for Green Bay, with seven 1,000-yard seasons, including a career-best 92 catches and 1,295 yards in 2006. He also helped lead the Packers to a win in Super Bowl XLV, and was named to four Pro Bowls in his 14 seasons in Green Bay.
9. Reggie White, DE, 1993-1998
The "Minister of Defense" only spent six seasons with the Packers, but they were about as impactful as any six could have been. He registered 68.5 sacks during his stint with the Packers, which established a franchise record at the time. He also helped revitalize the defense as a leader in Green Bay, helping the team win Super Bowl XXXI against the New England Patriots and return to the Super Bowl the following year. White was named either first-team or second-team All-Pro in each of his six seasons in Green Bay, and his number 92 was retired by the franchise in 2005. He is currently second on the all-time sacks list and was enshrined in Canton posthumously in 2006.
8. Aaron Rodgers, QB, 2005-present
Faced with the seemingly impossible task of replacing Brett Favre, Rodgers has done just that and more in his five-plus seasons as starting quarterback for the Packers. He will undoubtedly find himself higher on this list as his career progresses, but with three Pro Bowl selections, an MVP award and a Super Bowl ring, he has already established himself as one of the greatest Packers of any era.
7. Jerry Kramer, G/K, 1958-1968
Perhaps the best player in football history not to be inducted into the Hall of Fame, Kramer's contributions to the Packers teams of the 1960s is not lost on Green Bay fans. He was selected by the Packers in the same draft as Jim Taylor and Ray Nitschke, and went on to earn first-team All-Pro accolades on five separate occasions. Kramer played predominantly as a right guard on the Green Bay offensive line, but also took over placekicking duties during parts of three seasons with the Packers. He helped lead Green Bay to five championships, including both Super Bowl I and II. He was named to the NFL's 50th anniversary team and inducted into the Packers Hall of Fame in 1975.
6. Jim Taylor, FB, 1958-1966
A bruising fullback for the Packers' championship teams of the 1960s, Taylor retired as the Packers' all-team leading rusher. He led the league in rushing in 1962 with 1,474 yards, and was named MVP by the Associated Press in that season. He was named to the All-Pro team six times in a seven-year stretch between 1960 and 1966, helping the Packers to win four NFL championships in that span. Taylor was inducted into the Packers Hall of Fame in 1975 and into the Pro Football Hall of Fame a year later.
5. Paul Hornung, HS/S/K, 1957-62, 1964-66
One of the most versatile players not only in franchise history but in the history of the NFL, Hornung was a member of four Packers championship teams in the 1960s, and was named NFL MVP in 1961. He scored 62 touchdowns in his nine seasons in Green Bay, adding 388 points kicking over the course of his career. Paired with Taylor in the Packers' backfield, the duo was known as "Thunder and Lightning" and both were named to the 1960s All-Decade team. Hornung was inducted into the Pro Football Hall of Fame in 1986.
4. Don Hutson, SE/S/K, 1935-45
A two-way player for the Packers in the early days of pro football, Hutson is best known for his contributions as a split end on the offensive side of the ball. His career started with an 83-yard touchdown pass on his very first play and ended in 1945 with his name in the NFL's record books for most touchdown receptions (99), a record that stood until Steve Largent broke it in 1989. Hutson was named first-team All-Pro eight times, was twice named MVP (1941, 1942), and helped lead the Packers to three championships.
3. Ray Nitschke, LB, 1958-1972
No name was more synonymous with championship defense in the 1960s than Nitschke, who was given freedom to make plays and unleash hard hits as the middle linebacker in Vince Lombardi's 4-3 defense. Nitschke was an integral part of all five of the championships that the Packers won under Lombardi, and became the only linebacker named to both the 50th and 75th anniversary teams announced by the NFL. His number 66 is retired at Lambeau Field and he was inducted into the Pro Football Hall of Fame in 1978.
2. Brett Favre, QB, 1992-2007
From Super Bowl II until 1992, when Favre arrived in Green Bay, there was very little success for the franchise that had become so accustomed to competing, if not winning, championships on a regular basis. The Packers advanced to the playoffs in Favre's second season before winning Super Bowl XXXI after the 1996 season. Favre won three consecutive MVPs from 1995 through 1997, made 11 Pro Bowls, and holds nearly every career record for a quarterback, including touchdowns, yards, completions and wins. He was also noted for his durability, playing through injury to the tune of 321 consecutive starts, including the playoffs.
1. Bart Starr, QB, 1956-1971
Drafted by the Packers in the 17th round in the 1956 draft, Starr became the starter in Lombardi's first season as coach and never looked back, leading the Packers to five titles in the next nine seasons. Those titles included the first two Super Bowls, both games in which Starr was named MVP. He was the conductor of a very balanced Packers offense, which included standout backs in Hornung and Taylor, and as a result, limited the personal statistical milestones that Starr might otherwise have attained. The wins and the championships speak for themselves, as Starr helped the Packers win 68.9 percent of their games from 1960 to 1967. His number 15 is retired in Green Bay, and he was inducted into the Pro Football Hall of Fame in 1977.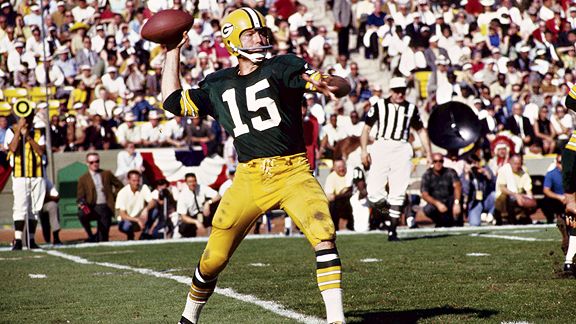 Honorable Mention:
James Lofton, WR, 1978-1986: Held many of the team's receiving records before they were broken by Donald Driver, and would likely be on the list had he played as long as Driver did in Green Bay.
Herb Adderley, HB/DB, 1961-1969: Stuck behind Paul Hornung and Jim Taylor at halfback, Adderley switched to defense and helped the Packers win five championships in the 1960s.
Tony Canadeo, HB, 1941-44, 1946-52: Canadeo was an all-purpose player for the Packers in the 1940s, has his No. 3 jersey retired by the franchise and missed the 1945 season serving America in World War II.