If there's anything Green Bay Packers fans have learned about the NFL Draft process, it's to trust Ted Thompson.
It's about more than just drafting guys like Aaron Rodgers, B.J. Raji and Clay Matthews in the first round. It's been about excelling in the later rounds, where he's picked up guys like James Jones (third round, 2007) Desmond Bishop (sixth round, 2007), Josh Sitton (fourth round, 2008), and T.J. Lang (fourth round, 2009).
He has also hit a home run on most of his second-round picks, drafting guys like Nick Collins in 2005, Greg Jennings in 2006, Jordy Nelson in 2008 and Randall Cobb in 2011. The jury is still out on the 2012 second-rounders, Jerel Worthy and Casey Hayward, but there's a high likelihood that the two will be impact players for the Packers for years to come.
There have been a number of flops, like any team, with guys like Justin Harrell and Brian Brohm, but those picks have been few and far between. Green Bay's success over Thompson's tenure has led to late first-round picks, meaning more question marks.
The Packers aren't afraid to pass on a pick if there isn't the value in a player at that slot, choosing instead to stockpile picks later on in the draft. I see that as a likely scenario for the first round this season, but there is one player I've had my eye on that I think Green Bay could very well latch onto in the first round.
His name is Jonathan Cyprien,  a strong safety out of unheralded Florida International University. At 6'2″ and 217 pounds, he would be an ideal size to match up with the likes of Calvin Johnson, Brandon Marshall and Greg Jennings, each of whom the Packers will see twice a year in the NFC North.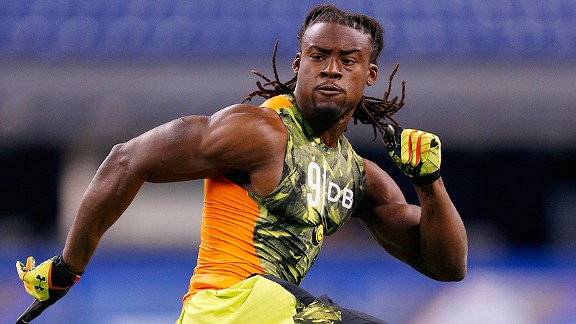 There is a definitive track record of players from schools that aren't traditionally FBS powerhouses having success in Green Bay over Thompson's tenure, especially in the secondary. Collins was drafted out of Bethune-Cookman, Hayward was drafted out of Vanderbilt, 2012 fourth-rounder Jerron McMillan came out of Maine, and 2011 fourth-rounder Davon House played at New Mexico State.
Taking a guy like Cyprien in the first round would be a bit of a change for Green Bay, but if he is the best guy available and it's in a position where Thompson and the front office see value, I don't think they would hesitate to make the pick.
While there is also a need to add depth on the offensive line and at running back, there is not a gaping, glaring hole on the roster that needs to be addressed in round one. I would venture to say that it's a coin flip whether or not the Packers actually even make a first-round pick. If a pick is made, Green Bay fans should trust the process and the track record of the scouting department and front office in knowing it will be a player than can be of help on the roster come the fall.