After watching the Pittsburgh Steelers defeat the Cleveland Browns 14-3 on Thursday night, I noticed a familiar sight.
It was the battered Browns' quarterback Colt McCoy, slumping his shoulders with a disappointed and depressed look on his face after yet another though loss.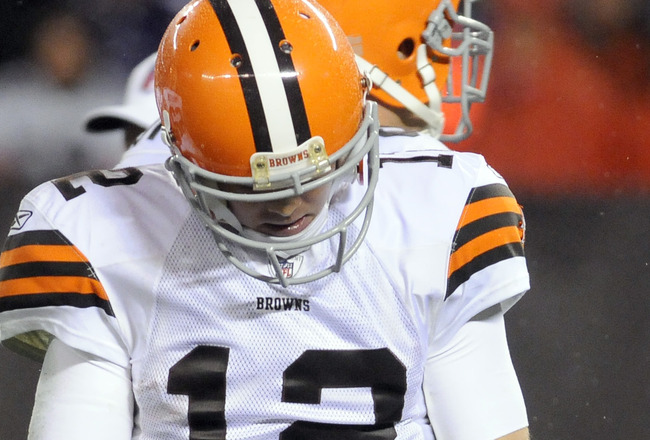 I have seen this look on a lot Browns' quarterbacks over the years, but I never felt so much sympathy as I do for Colt.  You can tell that guy works so hard in practice, in the film room, and during the off season.
But on Sundays, nothing seems to click.
Whether it is wide receivers dropping passes, offensive linemen blowing blocks, or poor play calling, all the blame still falls on Colt's shoulders.
This is very unfair at times, because Colt has absolutely no weapons on offense (although you can make a case for Hillis when he is healthy).  His wide receivers are awful. Greg Little leads the team in receiving yards and he is ranked 52th in league, stuck behind the infamous Darrius Heyward-Bey.
The offensive line has really struggled because of Eric Steinbach's injury, and Colt has been smacked around all year.  He has been sacked a total of 32 times this season.
Plus, Pat Shurmer's play calling has been basic, bland, and predictable.  It is so bad that former GM and NFL writer Michael Lombardi plays a game with a former NFL coach, in which Lombardi says,
"I tell my friend the personnel group, the formation, where the ball is located on the field and what hash mark and describe the motion — if there is any — and ask him to tell me the exact play that will be run. He is correct about 95 percent of the time."
But, Colt has to take some blame for his poor play too.
He has struggled picking up blitzes, he has missed open receivers, and forced a lot of passes.  During the 4th quarter in the Steelers game, only down 7-3, he threw a bad pass to Mohamed Massaquoi which was intercepted in the end zone and killed Cleveland's momentum.
Even though Colt makes plenty of head scratching mistakes and does not seem that he has as much potential as Cleveland fans have hoped for, there are still three qualities that he has that makes me root for him every Sunday.
First, he is a winner and I love that quality in a quarterback and in a leader.  Like most pro players Colt has been very successful in high school and college, but has struggled to win in the NFL.  You can tell from his demeanor and his focus that we wants to win at the pro level, but at the moment he does not have the talent or the talent around him to do so.
Second, he is tough as nails.  Colt has been banged up this season and has taken plenty of big hits, none bigger than the helmet crushing hit James Harrison laid on him last game, which led to his concussion.  But Colt displayed his toughness and came back in two plays later; but unfortunately he threw a costly interception almost immediately.
Last, he is just a likeable guy.
You can tell that he works hard everyday to try to improve his skills and that he loves playing football.  Plus, he is way cooler than that prick J.D McCoy.
Also, because of work ethic and toughness you can't secretly root against him like you could for tools like Braylon Edwards, Carson Palmer, or in some cases Derek Anderson — although in Derek's defensive he takes this shit serious, real serious. (Okay I never secretly rooted against DA, I just wanted to use that joke.)
With McCoy's job security in question for next season, plus his concussion that might prevent him from playing the rest of the season, Colt's future in Cleveland looks bleak. But if he keeps up his hard work and the toughness that Browns fans see every Sunday, maybe McCoy can turn himself into the winning quarterback he has always planned to be.