It's been somewhat of an up-and-down season filled with uncertainty for the Chicago Blackhawks. Injuries to Jonathan Toews, Dave Bolland and Marian Hossa have affected games and future outcomes.
Many of the young players have been asked or expected to mature a little faster than usual. Things haven't worked out as well as the players and fans would've liked.
The Blackhawks are basically a healthy team right now, but wouldn't it be nice to have one or two more key players to help them get back to winning?
Here's a list of 10 players that could really help the Blackhawks this year.
Note: None of these have actual truth behind them because as of right now. I don't know, or think anyone else in the media knows, if Bowman is shopping around for players. These are in no particular order.
1. Michael Leighton
This is one of the newest options, as Leighton just came on the waivers today. He's been injured all year and rookie goaltender Sergei Bobrovsky has taken over the starting position in Philly.
Flyers GM Paul Holmgren has admitted to trying to trade Leighton, but has received little or no interest.
Leighton played extremely well for the Flyers in the 2010 postseason and against the Blackhawks, and bringing him back to Chicago would be a smart move in the short term, but even smarter in the long term.
Acquiring Leighton would let Bowman shop around Turco to teams in need of a veteran goaltender at little cost.
It would also mean splitting Leighton's salary with Philly, a reasonably low $775,000 for a goaltender with playoff and Stanley Cup experience.
It's a very intriguing move, and I hope Bowman has the smarts enough to consider it.
2. Ryan Whitney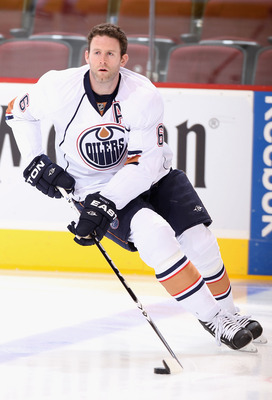 Oilers defenseman Ryan Whitney is the perfect example of a player on the rise and reaching his prime this year.
The Blackhawks need another solid defensemen. Boynton, Cullimore and Scott are not going to cut it and are doing more harm than good.
Whitney is on track to have his best season since his second season with the Penguins when he had 45 assists along with 14 goals.
He has struggled to keep his plus/minus above zero, but that's not been the case this year. It now stands at plus-13.
He's the perfect guy to be at the number two line, and can ultimately replace one of the struggling defensemen on the fourth line.
3. Marek Zidlicky
Another defenseman made the list because I believe it's the main position the Blackhawks need.
The Wild's Marek Zidlicky has been a consistent defenseman his whole career. He's going to give you 70+ games a year along with 40-50 points a season. What more could you ask for in a defenseman?
Once again, I think he's a great man to fill in at the second or third line.
He has some playoff experience with the Predators, so there's no unfamiliarity when it comes to important games.
He's not a star, but the Hawks don't need a star. They need a consistent, all-around player. Zidlicky is the guy for the job.
4. Alexander Steen
The Blackhawks only have one star center, and that's team captain Jonathan Toews.
It'd be extremely beneficial if they could pick up another up-and-coming center to help with some offensive production.
The Blues' Alexander Steen is the perfect guy for just that. Last season he scored a career-high 24 goals in only 68 games. With Toews' leadership ability along with other veterans, such as Hossa and Sharp, Steen could evolve into a great second line center for the Hawks.
Most importantly he has a face-off winning percentage over 50 percent. It's an overlooked but very crucial stat in hockey.
5. Tomas Vokun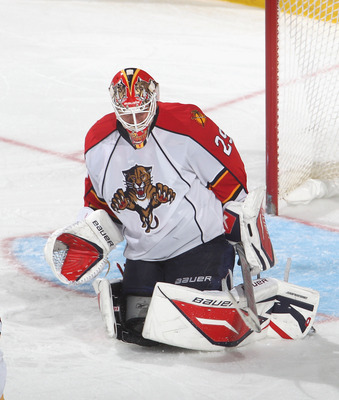 Remember Panthers goaltender, Tomas Vokoun? If you followed the Blackhawks' offseason, then you've heard this guy's name once or twice.
There were some serious rumors about the Hawks picking up Vokoun, and I still wouldn't mind if they decided to ever pick up this guy.
He's a great veteran goalie who can bring a lot of experience. His playoff record isn't the greatest, but not many goaltenders who have great playoff records go on the market.
Vokun has proven that he can win with a solid team in front of him. Don't overlook the numbers he puts up now that's he with Florida, a much worse team than Nashville when he was with the Predators.
If he can put up pretty decent numbers on below-average Florida, then I'd love to see what he could do in Chicago.
6. Ville Leino
Flyers left winger Ville Leino could be that perfect man to assist in the offense and left wing, other than Patrick Sharp.
Sharp is doing an incredible job, but the Hawks are being forced to move some people to left wing that are not usually playing that position.
Leino gives the perfect balance of some offense and defense.
Leino has an amazing plus/minus rating of plus-18, and continues to have a breakout year with 26 points.
He performed well for the Flyers in the playoffs, and that only adds to the interest the Hawks should have in him.
7. Drew Doughty
Drew Doughty is one of, if not the best, young defensmen in the NHL right now. He had an outstanding season last year, totaling 59 points and a plus/minus rating of plus-20.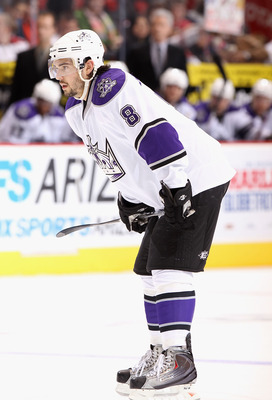 Doughty would be the perfect fit for the struggling Hawks defense.
He brings a fresh breath of air, and with Nick Leddy making progress in Rockford, the Hawks could have an elite defense that could be better than last season if they pick up another player like Doughty.
8. Pa Parenteau
The Islanders' Pa Parenteau is the first right-winger on the list. With Hossa, Kane and sometimes Kopecky filling the right wing spot, that lets little room for another big name.
Parenteau is that perfect 40-50 point guy that can score, but really helps in the assist and defense column more.
He's not going to cost the team a lot when it comes to the salary cap. That's perfect for the Hawks when it comes to this offseason.
Paremteau has the capability of really surprising some people, and being an underground, not well-known player who die-hard fans respect.
9. Brian Boyle
Brian Boyle is another player who flies under the radar. He doesn't score a lot, but he does have a great scoring ability, and I'd expect his goal count to go up as his career continues.
Chicago needs a player whose value will go up as years progress. The Blackhawks are hoping right now that their young players hit their prime, but few have answered the call.
This is a player who will, I believe, hit his prime as soon as next year, but still adds a lot of talent to the team this year.
10. Steve Mason
If my other options for a new goaltender in Chicago fail, Steve Mason would be my man.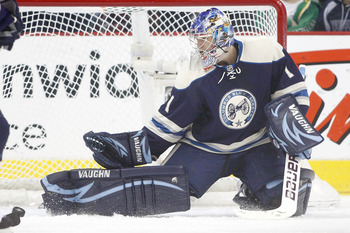 I've always admired Mason as a good hockey player. He was stellar in his rookie season, and I don't think that was a spoof. I rightfully believe that Mason can become an elite goaltender one day.
Where better to do it than Chicago?
Mason reminds me of Niemi, a young, yet highly marketable goaltender. Mason has his best years ahead of him, and would be a great pickup for the Hawks if they're looking for a franchise goaltender.