Blackhawks fans received some good news on July 12 when the Hawks agreed to match San Jose's offer sheet of four years, $14 million to keep young defenseman Niklas Hjalmarsson.
That's great news for the fans and the organization. Stan Bowman indicated Hjalmarsson is now part of the core. Just like recent free agency news about the Blackhawks, the signing comes with a price. Most likely a loss of another top player.
After Hjalmarsson's pay raise, the Hawks are back to the problem they can't escape this offseason: the salary cap.
Including the newcomers, the Hawks have 15 players signed to about $54.3 million, not including the $4 million bonuses given to Patrick Kane and Jonathan Toews, pushing the salary to about $58.3 million.
The salary cap is $59.4 million.
Assuming Cristobal Huet is traded away or comes off the payroll somehow, that leaves the payroll to about $52.7 million. And assuming the Hawks only carry 22 players and don't spend past $58 million to save for injuries, that leaves the Hawks with $5.3 million to work with eight players. An average of $662,000 each.
Problem is the Hawks still have Niemi to sign, and he will definitely get more than $662,000. I've heard Antti Niemi will likely get $2.5 million.
If Niemi gets that amount, that doesn't leave much room for the remaining seven players. The payroll would be at $55.2 million, leaving an average of $400,000 for the seven others.
The NHL minimum salary is $500,000. Someone has to go.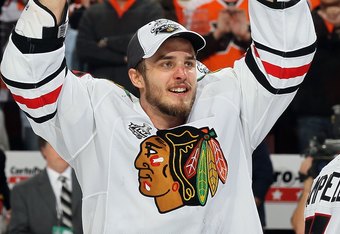 NHL sources say the Hawks are taking offers to trade Patrick Sharp and Brian Campbell. The other option is to trade Niemi before arbitration, but that's highly unlikely.
If Niemi's associates want $3.75 million, like St. Louis' Jaroslav Halak got, the Hawks can walk away from the deal, meaning Niemi becomes an unrestricted free agent. He's gone then.
Overall, it's not going to be pretty, so I encourage all Hawk fans to get ready to lose another top player.
Hold off from buying jerseys for awhile, because once you thought the pain was over, it's all about to begin again.
Good news though: Hjalmarsson isn't going anywhere.
---
---