When Bill O'Brien agreed to become Penn State's head football coach in January of 2012, he knew the NCAA was about to bring the hammer down on the Nittany Lions.
But it's doubtful that O'Brien – or anyone for that matter – could have anticipated the severity of the sanctions the NCAA would place on the football program in the wake of the Jerry Sandusky scandal.
Penn State was hit with a four-year postseason ban, a loss of 40 scholarships over four years, five years of probation and a $60 million fine, plus all of its players were given the option to transfer to another school and be eligible to play immediately. On top of all that, O'Brien also had to face the tall task of succeeding legendary coach Joe Paterno, who still was a beloved figure by many associated with the university in spite of the controversy over his role was in the Sandusky scandal.
The weight of the university and its die-hard fans, rested squarely on O'Brien's shoulders.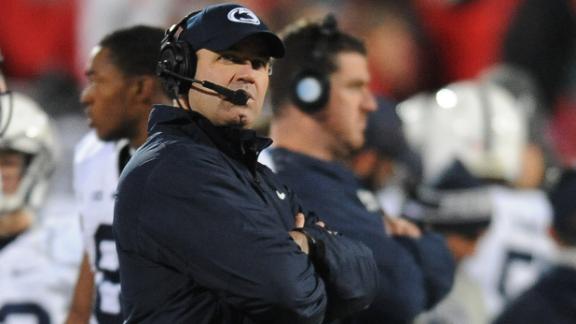 The adversity facing O'Brien and the football program was huge, but he managed to convince many of the Nittany Lion players to remain at the school and rally around one another to take on the enormous obstacles that stood in their way.
Following a few heartbreaking losses to start the 2012 season, Penn State would catch fire, winning eight of its final 10 games to complete a successful campaign. O'Brien was heaped with praise for his role in leading the Nittany Lions to an 8-4 record, being named the Big Ten Coach of the Year and winning several national coach of the year awards as well.
He also was credited with playing a key role in the improvement of quarterback Matt McGloin.
McGloin, a former walk-on, broke single-season school records for completions and passing yards, and set the Penn State record most career passing touchdowns (24 of his 46 career passing touchdowns came in 2012).
The on-field success of the Nittany Lions in 2012 was impressive, but the Penn State football program has historically stressed success in the classroom, not just on the field. Academic excellence was maintained under O'Brien, with a program-record 20 players making the Dean's List during the Fall 2012 semester.
Although the 2012 season was a success, there were many questions for the Nittany Lions heading into 2013 over whether or not they could avoid a steep performance drop-off as the NCAA sanctions continued to have a huge impact on the program.
The biggest positive Penn State had going for them heading into the year was freshman quarterback Christian Hackenberg.
Hackenberg was a highly-touted recruit who chose to play in State College. Even after the Sandusky scandal broke and the sanctions were placed on the Penn State program, he chose to honor his commitment to play for the Nittany Lions.
O'Brien was able to develop his true freshman quarterback and get him to play up to his potential. Behind the arm of Hackenberg, the Nittany Lions gritted their way to a 7-5 record, including a quadruple-overtime win over Michigan that will be talked about in University Park for years to come.
The game against Michigan took place on October 12th, coming a week after a surprising blowout loss to Indiana. Though they were playing at home in front of a raucous sold-out crowd of nearly 108,000 during homecoming, the Nittany Lions were still the heavy underdogs headed into their game with the 18th-ranked and undefeated Wolverines. However, Penn State would not be denied the win in a game that featured missed field goals, late-game heroics and four thrilling overtimes. The improbable victory gave the Penn State faithful – who never wavered in their support of their team – a chance to once again celebrate a triumph for their beloved football team, and it also gave O'Brien the signature win of his tenure with the school. (Highlights from that game can be watched here.)
During his time at Penn State, O'Brien was welcomed with open arms by the university's students, and he seemed to genuinely embrace State College and the unique culture of its football program (certain aspects anyway). That being said, he never kept it a secret that he wanted to return to the NFL at some point. Penn State never was going to be a destination job for Bill O'Brien, and any PSU fan that was expecting him to follow in the footsteps of Joe Paterno by staying with the school for the duration of his career was misguided. Coaches that stay in one place for 25-plus years are a dying breed.
O'Brien interviewed with the Philadelphia Eagles and Cleveland Browns following the 2012 season, but ultimately decided to stay with the school for 2013. He of course chose not to make the same decision the second time around, agreeing to become the new head coach of the Houston Texans.
Even though it seemed inevitable, O'Brien's departure still caused many Penn State fans to be furious with him, as many felt that he had betrayed them and dishonored his commitment to the program and players.
Frustration is definitely justified when coming from the players who put their trust in O'Brien and decided to stay with the program when they could have easily left. He made promises to players and recruits that he ended up not keeping, but this is nothing new in the coaching profession. When recruiting, O'Brien told players that he wouldn't be leaving State College, but what else was he supposed to say? Telling potential recruits that he was planning on leaving soon would be downright foolish, so he said what he had to, as unfair as it may seem.
It's even understandable that fans were initially upset with him when the news broke that he was leaving; that's a natural reaction to losing a coach that was as widely accepted and supported as O'Brien. But now that a little time has passed and Penn State has landed a big-name coach, it's time for the Nittany Lion fans that are still bitter with him to come to terms with his departure and appreciate all that he did for the program.
One of the main reasons that some fans are angry with O'Brien leaving is that they feel that he didn't honor his commitment to the school. While it's true that he did bolt long before his contract was up, it's hard to imagine that those same Penn State fans are upset with new coach James Franklin's decision to leave Vanderbilt, even though he signed a contract extension just over a year ago.
There is a great hypocrisy in the coaching profession. Coaches stress honor and commitment from their players, yet often don't practice what they preach and leave when a better opportunity comes along. O'Brien and Franklin aren't the first coaches to not stick with a team for the full length of the contract they signed, and they certainly won't be the last. That doesn't mean this grand level of hypocrisy is right, but it simply is the nature of the profession and isn't changing anytime soon.
Speaking of James Franklin, the fact that Penn State was able to bring him to State College speaks volumes to just how far along O'Brien brought the program in his two seasons with the school. After the NCAA announced its sanctions, it would have been unthinkable that someone like Franklin, one of the hottest coaching prospects in the nation, would even consider becoming the head coach of the Nittany Lions.
But thanks in large part to O'Brien's tremendous work during his time with the school, the Penn State job is once again a desirable coaching gig.
Franklin inherits a program that still faces hurdles, but is dwarfed in comparison to what O'Brien and his staff had to face when they arrived. The NCAA has already eased up on the scholarship reductions against the program, and there is even a chance that the bowl ban could be lifted early. Plus Franklin gets Hackenberg, who has the potential to possibly be a Heisman Trophy contender in the future. That's not to say that Franklin doesn't face any challenges, because he certainly does. But if he was able to turn around a perennial SEC doormat like Vanderbilt, then he can weather the storm at Penn State and lead the program into a brighter future.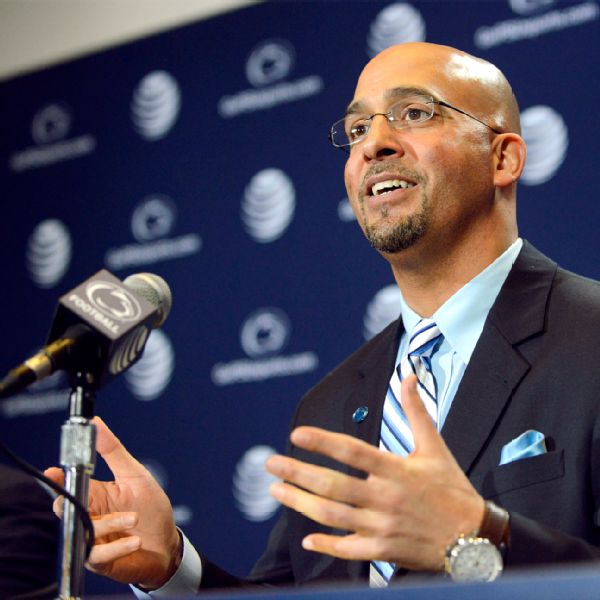 As for O'Brien, he will finally get to fulfill his dream of coaching in the NFL.
While it's no surprise that he ended up back in the pros, I did think he was going to stick around at Penn State a little longer than he did. I figured he would remain in State College at least as long as Hackenberg did, and it is a little disappointing that we won't be able to see a few more years of what had the potential to be an excellent coach-quarterback tandem.
In any case, O'Brien felt that now was the ideal time for him to make the jump back into the NFL. The biggest reason for his departure was of course his desire to fulfill his dream of coaching in the pros, but there were likely other factors that led to him making the jump sooner rather than later. His stock was at an all-time high, the Texans have the potential to be a playoff contender immediately, and it's no secret that he wasn't a fan of the university politics that dominate the college game.
Since his decision to leave Penn State, it has also come to light that O'Brien was also frustrated with the pressure he was getting from Paterno loyalists. This faction of people apparently became upset with him at the conclusion of the 2013 season when he chose to part ways with linebackers coach Ron Vanderlinden, one of just two coaches that remained from the Paterno era.
In early December, while driving around on a recruiting trip, O'Brien had an off-the-record phone conversation with sports writer David Jones, during which he vented about his frustration in dealing with these Paterno loyalists.
"You can print that I don't really give a —- what the 'Paterno people' think about what I do with this program. I've done everything I can to show respect to Coach Paterno," O'Brien said. "For any 'Paterno person' to have any objection to what I'm doing, it makes me want to put my fist through this windshield right now."

In the same conversation with Jones, he also let it be known just how upset he was over all the pressures he faced: "That's why, in probably about a month, they're gonna be —-ing looking for a new coach."
It's hard to tell if he had already made up his mind that he was leaving when he made this statement or if it was just something he said in the heat of the moment. In the end it doesn't really matter, because he chose to leave State College and the intense pressure he felt there.
So while Bill O'Brien's exit from Penn State was far from a storybook ending, his legacy at Penn State is secure.
He took over a storied football program that had fallen into its darkest hour and helped lead it towards the light at the end of the tunnel. He rallied together a team in disarray, getting them to play not for bowl games or conference titles, but for their university and each other.
And he helped galvanize a massive fanbase that had its foundations shaken just months earlier, when they saw their beloved football team and legendary coach brought down by a tragic and unprecedented scandal that resulted from the unspeakable crimes of Jerry Sandusky and the subsequent appalling cover-up.
To the credit of Penn State fans, it seems that most have come to terms with his decision to part ways with the school, wished him luck in his future endeavors, and given him the credit he deserves for what he accomplished during his brief tenure.
Succeeding Joe Paterno at Penn State was going to be difficult under normal circumstances, but succeeding him under the extraordinary circumstances that O'Brien dealt with had to be unfathomably difficult.
Considering the crippling sanctions placed on Penn State when he arrived, the fact that O'Brien led his teams to a 15-9 record during his two years at the school is nothing short of a miracle. He arrived to a program in shambles, and left it in incredible shape considering where it was.
But what he did for the football team and the university as a whole goes past wins and losses on the football field. He helped create something special for everyone associated with Penn State to rally around during the university's darkest hour.
Hopefully there will come a day when the fans that are still bitter with O'Brien will be able to look back and appreciate all that he did and what he meant for the program.
Because, simply put, the resurrection of Penn State football that we've seen over the past few seasons wouldn't have been possible without Bill O'Brien.
---
---