Voting for baseball's 2013 All-Star Game ends Friday, and the starters, along with the rest of the American and National League squads, will be announced Saturday night. Fan voting for the 'final man' will be conducted next week, and additional players will earn bids to Citi Field as others inevitably pull out with injuries and other maladies.
The fan voting for starters has always been good for needless controversy over the years, ever since the days where the punched-out ballots only available at ballparks ruled. In the online age, fans seem to get the right players in the starting lineup far more often. And if not? Those 'snubs' will ultimately be voted into the game anyways as a reserve.
But going through the positions and deciding who should be in the lineup is fun nonetheless. Here are my picks for the American and National League starters.
FIRST BASE
AL – Chris Davis (BAL)
Davis now has the attention of everyone now that he is halfway to a 60-home run, 160-RBI season. That attention comes complete with New York fans making performance-enhancing drug accusations on social media over the weekend. I guess we should give them credit for beating Skip Bayless to the punch.
We all know Davis has to remain undefeated against drug tests for the rest of his career or none of this will ever be considered valid. What can't be argued is that Davis's numbers are a product of playing at Camden Yards, since his splits are incredibly similar.

He's actually slightly stronger on the road. OK, I know the Yankees, Rays and Blue Jays have hitter-friendly parks too, but my point is made. And remember in 2009 when new Yankee Stadium was considered Coors Field-like? That was before the Yankees wound up being the team ranked ranked near the bottom in virtually all offensive statistical categories.
NL – Paul Goldschmidt (ARZ)
Look, it's the fans' game, and the fans can vote in whomever they want – and I really want Ryan Howard to start for the National League. However, Howard will probably strike out three more times in the time it takes me to write this, and the Phillies are on an off-day.
With that I will give Goldy (67 RBIs in 80 games) a slight nod over Joey Votto.
SECOND BASE
 AL – Jason Kipnis (CLE)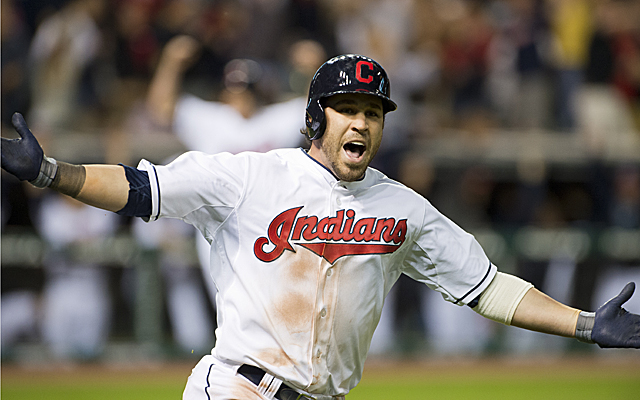 The humanoid fans are going to be torn between Dustin Pedroia and Robinson Cano, and we need the storyline of Cano getting to go 0-for-10 again in the Home Run Derby, this time in front of Mets fans.
Very few fans know that Kipnis (after a slow start) has driven in 47 runs over the last two months and leads all AL second basemen in stolen bases. Once again, if it happens in Cleveland, does it make a sound?
 NL – Brandon Phillips (CIN)
Feel free to put St. Louis's Matt Carpenter in this slot, it is very close between he and Phillips. Carpenter actually has a higher OPS, but I am going to go with Phillips and his 61 RBIs here.
THIRD BASE
 AL – Miguel Cabrera (DET)
I wanted to be one of those who actually make an argument for the Orioles' Manny Machado, who at age 20 is on pace for what would be a record-breaking 75 doubles. But while Machado hits doubles, Cabrera continues to hit home runs and everything else, and is on pace for a 50-home run, 160-RBI season, and possesses a 1.141 OPS.
Machado is amazing, but Miggy is just plain paranormal.
 NL – David Wright (NYM)
The current National League crop at the hot corner falls far short of its AL counterparts. Pedro Alvarez has woken up in the month of June, but Wright remains the most electable out of the group.
SHORTSTOP
 AL – J.J. Hardy (BAL)
Hardy plays solid defense and with 15 bombs has more than twice as many homers as any other AL shortstop. Interestingly enough, Hardy is hitting .307 on the road but just .220 at home.
 NL – Jean Segura (MIL)
If healthy, I would go with Troy Tulowitzki here, and Tulo seems to be trying to rush himself back in the lineup in time for the All-Star Game. I don't think the Rockies organization would be too keen on him playing though, so I'm going to go with the next man up – in this case the Brewers' main haul from the Zack Greinke trade a year ago. The Padres Everth Cabrera and his 31 stolen bases would be another option, but he has been on the shelf as well.
CATCHER
 AL – Carlos Santana (CLE)
There is no clear-cut candidate in either league behind the dish. As far as the American League is concerned, you could either go with Matt Wieters – based on his ability to call a game and handle a pitching staff – or you could go with Joe Mauer, his enormous contract and the emptiest .320 batting average you will ever see.  I will split the difference and go with Santana, although he will not get much support at the ballot box playing for the Indians.
NL – Buster Posey (SF)
The National League is much more top-heavy at the catching position. I even have Wilin Rosario and Jonathan Lucroy in the conversation. But the main combatants are either perennial Gold Glover Yadier Molina or the defending National League Most Valuable Player Buster Posey. Posey remains slightly more potent with the bat, but you could go either way and both Molina and Posey will be on the roster.
DESIGNATED HITTER
 AL – David Ortiz (BOS)
You can't argue with the numbers in just 64 games, Papi's OPS is still on the sunny side of 1.000.
OUTFIELDERS
 AL – Adam Jones (BAL), Mike Trout (LAA), Jose Bautista (TOR)
At 27 years old, Adam Jones has slowly reached to the top of the AL heap while Mike Trout hasn't receded much from his incredible rookie campaign. I will round out the outfield with Bautista, who still has as much power as anyone in the game when healthy.
 NL – Domonic Brown (PHI), Carlos Gonzalez (COL), Carlos Gomez (MIL)
With Matt Kemp, Ryan Braun, and Bryce Harper all missing significant time with injury, the National League outfield pool is wide open. Carlos Gonzalez is the one top-tier outfielder who has lived up to his press clippings while Domonic Brown has been carrying the Phillies offense.
The elephant in the room remains Yasiel Puig, who has had a historic first 100 at-bats in the majors, recording 44 hits.  Dodgers fans have launched a full-fledged campaign to get him selected as a starter, much like they did with Steve Garvey years ago.
I wouldn't argue much if Puig was named to the team. Then again, he has an entire career ahead of him, Puig should be an All-Star fixture for the rest of this decade and beyond. There are many other candidates in the mix: Allen Craig, Carlos Beltran, Matt Holliday and Andrew McCutcheon among others. It is safe to say that the St. Louis voting block will get at least one Cardinal elected, if not two.
But I like going with players having career years. I saw a clip from the 2008 All-Star Game over the weekend and saw Nate McLouth and Carlos Quentin both involved in the game. Today, they're little more than mid-level players.
Will Carlos Gomez have the long-term staying power of Yasiel Puig? Probably not. But I like what Gomez has done in the last year and am going to name him as my last NL starter while I still have 80 games worth of work to go with him on.
Dodger Nation is welcome to disagree.
---
---