Frustration. More Frustration. Hopelessness. Exhilaration. Shock. Devastation.
Speechless.
Chicago Blackhawks fans went through every one of those emotions Tuesday night. It was a fitting end to one of the best playoff series played in recent history.
Sadly, the 'Hawks find themselves heading home after a 2-1 overtime loss to the Vancouver Canucks.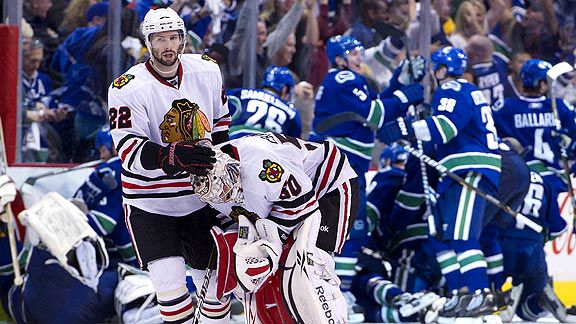 This season taught me a lot of things:
— There are no playoffs, there is not a comeback, and there is no Game 7 overtime without Blackhawks goaltender Corey Crawford. He was completely unreal and made the most clutch saves I've ever seen, including a penalty shot save at the beginning of the third period in Game 7 with the Canucks still up by one, and a total of three saves while on his belly in Game 7. It is an injustice for Crawford to not be nominated for Rookie of the Year. 33 wins and a .930 GAA behind a sup-par defense are outstanding numbers. He's my ROY.
— I can totally understand why the Canucks are happy. They have a right to be — they're going onto the second round. But how happy should they be? I am thinking that after the initial excitement is over they will realize how they let a team win three straight games and force a game seven after they had a commanding 3-0 lead in the series. If Vancouver thinks that it's going to get easier, they are wrong. The Nashville Predators are just as physical as the Canucks and have a much better defense then the 'Hawks. My guess is the Predators will win the series.
— The 'Hawks never deserved to win Game 7. They played like complete sh**. There's no other way to describe it. They should be thankful for Crawford not letting the Canucks really open up the game because the rest of the team surely didn't help.
— Patrick Kane frustrates me more every single year. He is not a player suitable for the playoffs, specifically against a team like the Canucks. He never shot the puck when he needed to. He didn't show much hustle, nor could he take a hit to make a play. His fancy style doesn't work against the Canucks, and instead of trying to become more physical he backed off and let the Canucks own him. Maybe I'm being a tad harsh right now, but I think everything I said is true.
— Henrik Sedin is a douchebag. After the game he said this during the post-game interviews: "We were the best team in five games. They had no business being in this series. I don't think they had any business being in the seventh game. They had no business being in the series. We outplayed them badly for five games." That is the definition of classlessness. All respect I had is now gone. Way to stay classy Vancouver.
— Stan Bowman had/has a lot of work ahead of him in this upcoming off-season. A little more veteran depth at the defensive positions would help. We need more players that are like Brent Sopel and Adam Burish. Their energy and toughness made teams play us differently and less physically. This year teams knew the 'Hawks were a weaker team and took full advantage of it.
As for Chris Campoli, I feel sorry for the man. He did make a terrible mistake, there's no doubt about that, but you can't (and he shouldn't) blame him for the 'Hawks losing the series. It was a team effort.
Things aren't going to go your way all the time, and though the season may be over there is reason for fans to be optimistic. There are some really talented players on this hockey team, both young and old, and we could have a franchise goaltender.
Besides, how many teams actually do repeat let alone make a comeback down 3-0?
*- Though the Blackhawks' season is over, the coverage of them isn't. Stay tuned for off-season coverage.
---
---