They may not have known it at the time, but when the NFL's band of schedule-makers (whoever they are) decided to send the Carolina Panthers to Atlanta the last week of the season, they basically had chosen the hierarchy of the 2010-2011 NFC playoffs.
Of course the Falcons won, so it didn't matter that New Orleans lost to Tampa Bay; they were locked into that five spot regardless. Atlanta's win also meant the shot at home-field advantage for the Chicago Bears went kaput, as did a first-round bye for the Philadelphia Eagles; who were assured the three-seed because, as you may have heard, the NFC West is the worst thing ever.
Thanks to the aforementioned slap-fight between the Seahawks and Rams and the Packers out-defending the Bears, our NFC Wildcard weekend is as follows: this year's version of the typically sub-par early Saturday game; the Saints and Seahawks, and a late Sunday afternoon what-have-you between Green Bay and Philadelphia.
So, like we did earlier this week, let's take a closer, and certainly more scientific, look at each of these playoff participants.
Green Bay Packers at Philadelphia Eagles

Packers-Eagles Date, Time, and TV: Sunday, January 9th at 4:30 ET on FOX
Packers-Eagles Announcers: Joe Buck and Troy Aikman
Packers-Eagles Point Spread: Eagles -2.5
Packers-Eagles Over-Under Odds: 46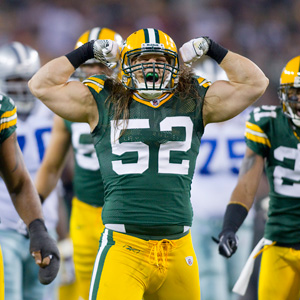 Green Bay Packers (10-6)
How they got here: You could say it was a bit of a bumpy ride. The Packers took care of their Viking problems, lost some players and a bunch of close games, but won when they had to in the end. When they looked good, they looked really good. When they looked bad, well, when I'm taking heart medication someday I will fondly think back to seasons like this.
Player who could have biggest impact (positively): Anybody who blitzes. The big names, Clay Matthews and Charles Woodson, yes, but also contributors like Erik Walden, who was all over the place (11 tackles, 2 sacks) in the playoff-clincher against Chicago. Really, whomever rushes Michael Vick needs to be effective in doing so. This is to say: Tackle him or watch the destruction unfold.
Player who could have biggest impact (negatively): The running game. I hate using this because it's so easy to say but, yeah, it's true. The backs, the offensive line, they all have to find a way to at least be passable here. An acceptable alternative would be making short yardage situations look like something less than a Herculean feat.
Unsubstantiated, completely untrue, statement: Charles Woodson is a ninja. Note: This could in fact be true.
Honest expectation: As is the theme of the season, anything is really possible here. With the talent they have, they should be making it out of the Wildcard round. But this team seems to change every week, and their opponent is just as talented. To save you a few more paragraphs of rambling, I'll just leave it at this: I have no idea what to expect, honestly.
Philadelphia Eagles (10-6)
How they got here: They lost some games sans Michael Vick, but for the most part when he was quarterbacking they were easily one of the most exciting and dangerous teams in the league (the most memorable example was in Washington once upon a Monday night). By dropping the sledgehammer's equivalent of a comeback on the Giants in Week 15, they assumed control of the NFC East.
Player who could have biggest impact (positively): DeSean Jackson. I say this not only because he is a cheetah-like deep threat, but also because he returns kicks. The Packers do not possess the greatest special teams unit in the world.
Player who could have biggest impact (negatively): The pass protectors. The Eagles are tied for second in the league in sacks allowed with 50. Green Bay's defense is tied for second in the NFL with 47 sacks. Kevin Kolb seems like a nice fellow and all, but if the already banged-up Vick can't stay upright, no one in Philadelphia will be too happy to see him.
Unsubstantiated, completely untrue, statement: Stewart Bradley, by virtue of his name, is statistically one of the least-likeliest people ever to make it to the NFL.
Honest expectation: If Vick is operating at an otherworldly level and in harmony with the jet pack-wearing weapons around him, there could be no stopping them. They've had their share of defensive inconsistencies and injuries this season, though, and if Vick isn't comfortable they could just as soon flame out than set the world on fire.
New Orleans Saints at Seattle Seahawks

Saints-Seahawks Date, Time, and TV: Saturday, January 8th at 4:30 on NBC
Saints-Seahawks Announcers: Tom Hammond and Mike Mayock
Saints-Seahawks Point Spread: Saints -10.5
Saints-Seahawks Over-Under Odds: 45.5
New Orleans Saints (11-5)
How they got here: One way of looking at it is they are here right now because Garrett Hartley missed a 29-yard field goal in overtime against the eventual division champion Atlanta Falcons in Week 3 (to be fair, I have heard the air-conditioning was blowing especially hard in the Superdome that day). Another way to look at it is they lost to the Cardinals and Browns too, and those are penalties punishable by trips to Seattle.
Player who could have the biggest impact (positively): The New Orleans Saints. Honestly, take your pick. Offense. Defense. Special teams. Whatever. Somebody, anybody really, can and should have a positive impact on this game. In fact, if any Saint looks particularly bad in this one, we should worry about him.
Player who could have the biggest impact (negatively): The back-up rushers. I was going to say the one guy who says, "Come on, it's the Seahawks," and gets too drunk the night before the game, but I suppose we could also acknowledge that New Orleans does have some running back issues. With Chris Ivory and now Pierre Thomas on injured reserve, it'll be up to Julius Jones, Reggie Bush and DeShawn Wynn to do something. We could call them The Big Threeasy, but then, like you, I'd want to punch me.  Not my best.
Unsubstantiated, completely untrue, statement: Drew Brees once threw a few orange peels in the grass. But one of them still had that little sticker on it, and that counts as LITTERING.
Honest expectation: The Saints should end this first round as quickly as possible, try not to pick up any sloppy tendencies, remind themselves that yes, that was actually a playoff game, and then carry on.
Seattle Seahawks (7-9)
How they got here: Well, they swept the, uh, Cardinals and also defeated St. Louis in the gunfight where both teams brought knives. Seattle was 5-3 at home, and they will take that Gold Star into the playoffs as NFC West champions.
Player who could have the biggest impact (positively): Leon Washington. Three kickoff returns for touchdowns this season for Mr. Washington. He may need to run three more back on Saturday just to keep things interesting.
Player who could have the biggest impact (negatively): The secondary. Seattle gave up nearly 250 passing yards per game this season. They finished tied for second in touchdown passes given up with 31. On the flip side, they recorded 12 interceptions. That is not a good ratio; and these are not favorable stats against anyone, especially Drew Brees.
Unsubstantiated, completely untrue, statement: All those birds that keep falling from the sky are actually seahawks, and it is definitely a not-so-subtle metaphor from nature.
Honest expectation: Head coach Pete Carroll said, "We're going to have a really cool week of preparation." I'm assuming this will include some combination of freeze pops and a Call of Duty tournament. The Seahawks will only be an interesting team if we're still talking about them next week.
**********
**Matthews photo courtesy of AP Photo/David Stluka.
**Jackson photo courtesy of Albert Pena/Cal Sport Media.
**Brees photo courtesy of AP Photo/Julie Jacobson.
**Carroll photo courtesy of Otto Greule Jr/Getty Images.
Twitter: twitter.com/griffingotta
Email: griffingotta@gmail.com
---
---