The Minnesota Twins have started off hot in the Grapefruit League posting a 4-1 record thus far. We all know that the records and scores are irrelevent during Spring Training, but what we can take away from this is how our guys have looked at the plate.
Who's Hot?
Delmon Young – 6/7, 2B
Delmon's trying to play his way into the lineup after Ron Gardenhire's offseason quotes leaving him off the opening day card. So far, he's looked solid, crushing the ball all over the field.
Brian Buscher – 6/10, 2 2B, HR
Buscher has played out of his mind over the last few days. It's just a matter of time before we start hearing the 'Why did we sign Joe Crede' chants. I imagine eventually he will regress to being Brian Buscher again, but until then, he's playing his way into the opening day squad. Buscher's solid performance puts pressure on Harris, Tolbert, and even relievers trying to make the opening day squad. If Buscher increased his defensive 1B ability, his stock would certainly increase.
Dustin Martin – 6/9, 2 2B
Martin's reminding us all that we have quite the outfield beyond Span, Gomez, and Young waiting in the minors.
Jason Kubel – 2/4, 2B, HR
Kubel's only had a few at bats – but he's done quite a bit with them. You have to believe he's going to live up to his extension this season.
Who's Not?
Carlos Gomez – 2/9, HR – Is he trying to become a power hitter?
Denard Span – 1/9
Alexi Casilla – 1/6
Matt Tolbert – 2/12
Nick Punto – 1/10
Michael Cuddyer – 1/7
Joe Crede – 0/5 – Still waiting for that much anticipated first hit.
…..
Today the Twins take on Puerto Rico. Unfortunately, MLB.TV won't be picking up either the video or audio for this game. Here's our lineup for this afternoon:
TWINS – Scott Baker (SP)
1. Denard Span, CF
2. Alexi Casilla, 2B
3. Michael Cuddyer, RF
4. Jason Kubel, DH
5. Joe Crede, 3B
6. Brian Buscher, 1B
7. Delmon Young, LF
8. Mike Redmond, C
9. Matt Tolbert, SS
PUERTO RICO – Ian Snell (SP)
1. Bernie Williams, CF
2. Ivan Rodriguez, C
3. Carlos Beltran, CF
4. Carlos Delgado, 1B
5. Alex Rios, RF
6. Hiram Bocachica, LF
7. Felipe Lopez, 2B
8. Mike Aviles, SS
9. Ramon Vazquez, 3B
So hopefully, we'll get to read about Joe Crede's 4 Home Run game in the papers tomorrow. Looks like we're fielding a solid lineup realizing that Morneau (Canada) and Punto (Italy) have reported to their respective teams' WBC camps.
…..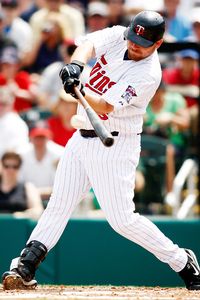 A few links from around the Twins Nation:
LaVelle Neal's lasted entry discussing Delmon Young and some notes from around the minors.
Joe C's lasted entry discussing today's game against Puerto Rico
Twins Now discussing Jason Jones' superb outing the other day.
Twinkie Town discussing Delmon Young and Jason Kubel's recent performance
SethSpeaks discusses the Twins signing of Carmen Pignatiello – not quite Juan Cruz
Nick and Nick discuss the WBC
 
---
---